Posted on
Monday, May 11th, 2015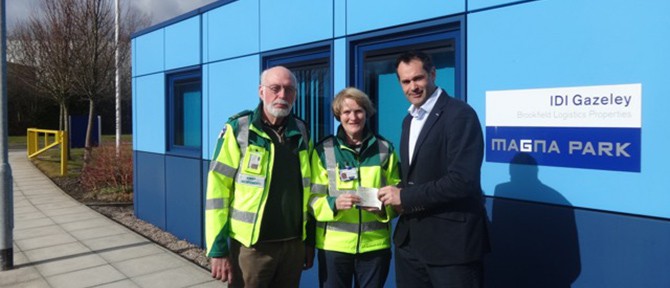 The community fund was established by Gazeley to support community and voluntary organisations to deliver local projects.
With a fund of £20,000 available per annum, many local charities and voluntary groups have already benefited from this initiative.
To date the following charities have all received funding: –
Cotesbach Parish Council (£2,500) for a village pond refurbishment project.
Lutterworth Community Responders (£1,000) towards new defibrillators equipment.
Claybrooke Primary School (£2,500) towards a new cover for the school and community swimming pool.
Lutterworth Little Rainbow's Pre-School playground project (£2,853)
Sponsored 'Spark Harborough' donating £1,000 cash to the winner of the 'Best Business Growth Idea'.
Lutterworth High School (£2,500) – funding to support the set up costs (purchasing equipment) to get a new Duke of Edinburgh scheme set up.
Claybrooke Magna Parish Council (£400) for defibrillator equipment for the village.
St Leonard's Church, Misterton (£2,500) extension to church for children's area, small kitchen and toilet/disabled toilet facilities
Currently under consideration are several more local groups, that include Ullesthorpe Primary School – gardening project and Harborough District Children & Young People's Charity – funding play and youth work sessions in the Magna Park area.
With grants available from £250 to £2500, local groups can fill in an application form for their chance to make a big difference to the local community.